StC Santorini 2019 Best Image Winner Blayne Uto - Interview
Posted on June 10 2019
Join STC as we talk to Santorini 2018 Best Photo winner Blayne Uto, a delightful man and excellent photographer. He must be because Blayne topped them all at last year's event. His passion for photography is evident not only in his work, but also his dedication to learning. Blayne has attended 8 Shoot The Centerfold events and is signed up for number 9, Santorini 2019!
Blayne, a Hawaiian resident who loves to travel and photograph beautiful models, impressed us all with his winning capture that met all the quality ingredients we look for in a "perfect" image. It's not an easy task to photograph three models together and attain the winning image that came together perfectly for him. Though we're still unclear how much of a hotness factor our three models, Julia Logacheva, Noemi Kappel and Rebecca Perry may have contributed to the final image in addition to Blayne's photographic skills. We'll let you decide.
Interview
STC: Thank you for your STC serial-attendee status and for shooting the best image at STC Santorini 2018. You have become a very familiar face at our seminars.
Blayne: Hi fellow STC members. Yes, it is true that I have attended many STC Seminars in the past and continue to attend these great events. In fact, I am attending the Santorini 2019 event, making it the third consecutive year. One may ask, "Why?" My response, it has brought me success.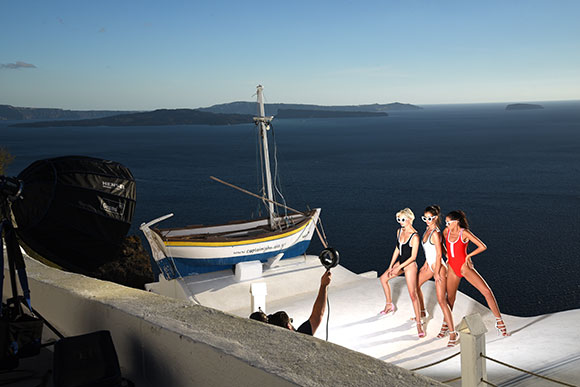 The setting for the winning image – behind the scenes – Hensel Grand 90 modifier
First and foremost, you get to meet many new and interesting people from all parts of the world and can learn a bit from everyone you meet. Second, STC has gathered top instructors, each with unique perspectives and styles who are willing to teach you how they do things.