Shoot The Centerfold - Santorini - Summary
Posted on April 02 2019

This was STC Santorini 2018
This was one of our best seminars we have conducted to date and it's hard to believe that it was over so soon. It was not our first Santorini seminar rodeo though, but this time it was magical. We had a great group of people from all around the globe with one passion in mind; the mutual love for photography. From the very first day, the seriousness of this seminar became evident. This group of attendees had their expectations running high and for all the right reasons since STC boutique seminars are as far from a holiday seminar as they come. We are all about photography and business.
...
Meet the Winner - The Best Image of STC Santorini 2018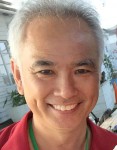 We are proud to announce the Best Photo from the Shoot The Centerfold Santorini 2018 Seminar, goes to Blayne Uto. He's an eight-time STC attendee with a passion and determination in photography.

Blayne, a Hawaiian resident who loves to travel and photograph beautiful models, impressed us all with his winning capture. It met all the quality ingredients we look for in a "perfect" image. It's not an easy task to photograph three models together and get the winning image. 

However, we're still unclear how much of a hotness factor our three models, Julia Logacheva, Noemi Kappell, and Rebecca Perry have contributed to the final image in addition to Blayne's photographic skills. We'll let you decide.